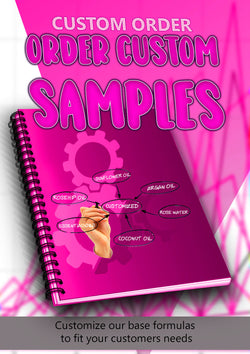 Product Customization - Order Samples
Please read entire description.
Customize our skincare base formulas - We understand the need to personalize your products for your customers, which is why we work with you to determine the best fit for your brand! 
Please keep in mind we do not use preservatives or any unnecessary ingredients to extend the shelf life or product appearance. We specialize in formulating products that include natural ingredients that are only beneficial to your skin. 

How does this process work? Please read entire process.
Step 1 - Click here to review our product customization form to make sure we can accommodate your requests. Before completing the product customization form, we require a non-refundable deposit of $25.00 for custom orders. 
Step 2 - Make Deposit ($25.00) by adding this product to cart and completing purchase. 
Step 3 - Once deposit is paid, complete the product customization form. You will receive a link to your email with the form. Please note prices can range between $20.00 - $35.00 per each customized product sample.
Step 4 - We will begin processing your product customization form . An invoice will be mailed to you within 5 business days. Please note there is a $50.00 fee for custom orders. 
Step 5 - Review and complete invoice payment for customized samples. Your $25.00 deposit will be credited towards the one time fee of $50.00. If you choose not to move forward with purchasing the customized samples, the $25.00 deposit will not be refunded. 
Step 6 - Once invoice is paid, we will mail your samples out within 7-10 business days. 
Step 7 - Review Your Samples. We will schedule a consultation call to discuss your samples and wholesale pricing. Please note additional samples can be purchased if needed. 
Step 8 - Place a customized wholesale order. **The minimum order quantity for each customized product is 20. 
If you have any questions, please send an email to customerservice@naturallycreatedwholesale.com