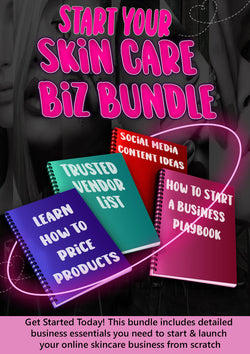 Start Your Skin Care Biz Bundle
Designed for the beauty bosses ready to start their online skin care business in 2023. This bundle includes digital resources that will teach you how to get your business started, price your products to make a profit, equip you with trusted vendors and tell you exactly what to post to grow your business. 

So many women invest in inventory right away and end up wasting their money because they don't know anything about starting a business. Danielle, CEO of NCW, always recommends investing in yourself first before spending money on anything else. It's important that you have a good understanding of how to start your business before you actually start selling. 
eBooks Included:
How to Start Your Skincare Business Playbook ($129.00)

The blueprint on everything you need to do to launch a successful skincare business. 

Topics Include:
-Your Brand Purpose and Why
-Identifying Target Audience 
-Developing a Brand that Stands Out
-Choosing Your Products
-Determining Your Price
-Labels + Packaging
-Understanding the Sales Funnel 
-Starting a Website + Over 60 Shopify Apps 
-Email Marketing & Why It's Important 
-How to Launch Your Skin Care Business


How to Price Your Products ($29.00)


Learn how to calculate your cost of goods, determine your profit margin and understand how your price affects sales and discounts. You will also receive a digital resource to easily determine your profit per product. 

Complete Vendor List ($29.00) 

A small business must have: Our vendor list gives you access to vendors for essentials like containers, packaging and labels for your skincare business. 

Social Media Content Ideas (25.00)

A bank of content ideas for building community, nurturing your audience and selling your products on social media. 
Please note: This is a digital product. You will not receive a physical product in the mail. After purchasing this item you receive email with instructions on how to download your digital product. All digital products are non-refundable.